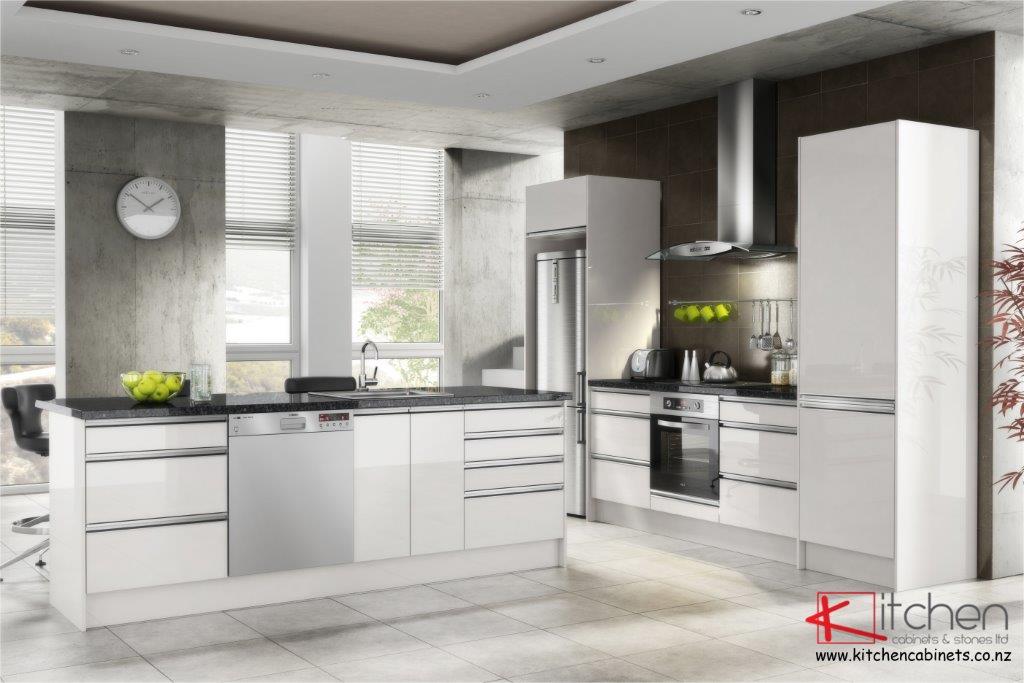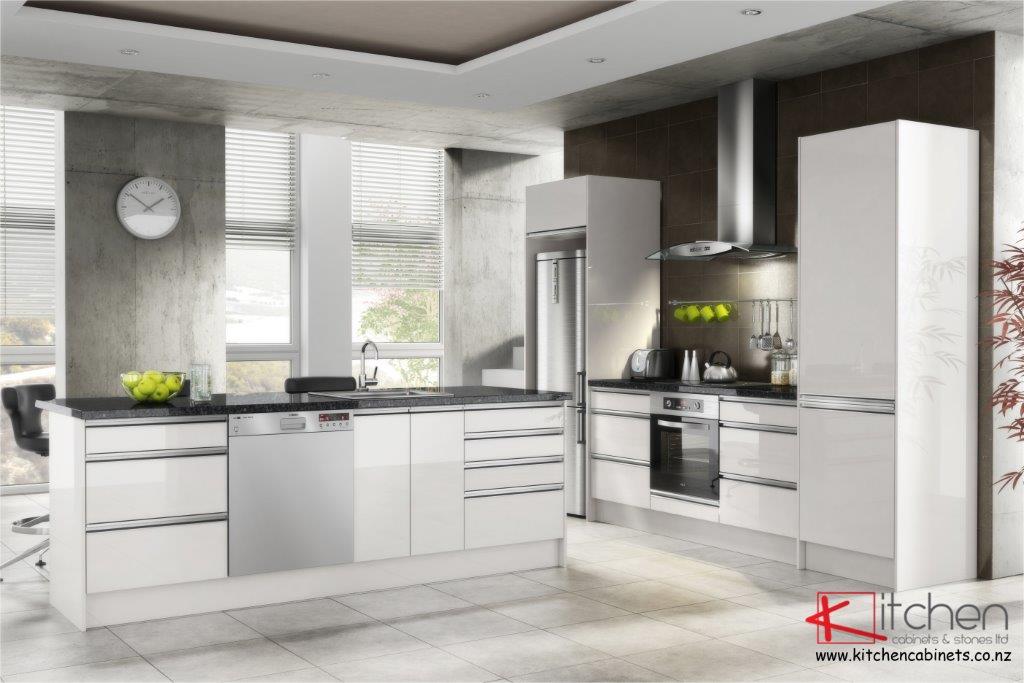 Venice Kitset Kitchen - Recessed Handles
Check delivery price 
Note! This product contains multiple components. Check the stock availability below! 
Components stock availability
This Premier system kitset is a stunning modern kitchen set. European made, it comes with recessed inox handles, adjustable feet, 18mm MDF thermal wrapped HIGH GLOSS WHITE doors. Soft close drawer runners and door hinges. The cabinet carcasses are made from HMR moisture resistant board. The drawers have metal edge boxes and are fully extending.
This set includes these flat packed items:

3x 600mm Wide 3 drawer base cabinet

1x 600mm Wide 2 door base cabinet
1x 600mm Wide 4 drawer base cabinet
1x 600mm Wide pantry with shelves
1x 600mm Wide oven base cabinet
1x 700mm Wide horizontal wall cabinet. (over fridge)
2x Breakfast bar end panels 870x605mm
1x Breakfast bar back panel 870x2400mm
2x PVC High Gloss White Toe kicks 150x2400mm
2x Tall end panels 2220x610mm
2x Fridge end panels 2220x650mm.
Bench tops, sinks and appliances are NOT included. We can provide a quote for the bench tops, if required please contact us.

This Kitset is for the items listed, however extra cabinets are available in various sizes.
---
| | |
| --- | --- |
| Facade material: | Thermal-Wrapped |
| Facade shape: | Venice |
| Facade colour: | High Gloss White 32WJV |
| Body colour: | White |
| Hardware brand: | DTC |
1x SET THERMOFOIL RECESSED HANDLE INOX 2D720H600W18T 32WJV WHITE G
1x SET THERMOFOIL RECESSED HANDLE INOX 2D2220H600W18T 32WJV WHITE G
1x DOOR THERMOFOIL RECESSED HANDLE INOX 108H597W18T 32WJV WHITE G
3x SET THERMOFOIL RECESSED HANDLE INOX 3D720H600W18T 32WJV WHITE G
1x SET THERMOFOIL RECESSED HANDLE INOX 4D720H600W18T 32WJV WHITE G
1x DOOR THERMOFOIL RECESSED HANDLE INOX 357H697W18T 32WJV WHITE G
1x BODY MR MELAMINE SLAB BASE 720H600W580D16T WHITE
1x BODY MR MELAMINE SLAB BASE OVEN 1D720H600W580D16T WHITE
1x BODY MR MELAMINE SLAB PANTRY 2220H600W580D16T WHITE
1x BODY MR MELAMINE SLAB WALL 360H700W350D16T WHITE
20x HARDWARE PLASTIC ADJUSTABLE FOOT 150H BLACK
8x HARDWARE PLASTIC ADJUSTABLE FOOT 150H BLACK
2x PANEL THERMOFOIL SLAB 2220H608W18T 32WJV WHITE G
2x PANEL THERMOFOIL SLAB 2220H650W18T 32WJV WHITE G
1x PANEL THERMOFOIL SLAB 870H2400W18T 32WJV WHITE G
2x PANEL THERMOFOIL SLAB 870H600W18T 32WJV WHITE G
2x PANEL PVC SLAB 2400H150W16T 32WJV WHITE G
7x RUNNER STEEL BB015004DD1 DTC WHITE D
6x RUNNER STEEL BB015004A DTC WHITE M
3x BODY MR MELAMINE SLAB 3 DRAWER 720H600W580D16T WHITE
1x BODY MR MELAMINE SLAB 4 DRAWER 720H600W580D16T WHITE
With this product people also buy