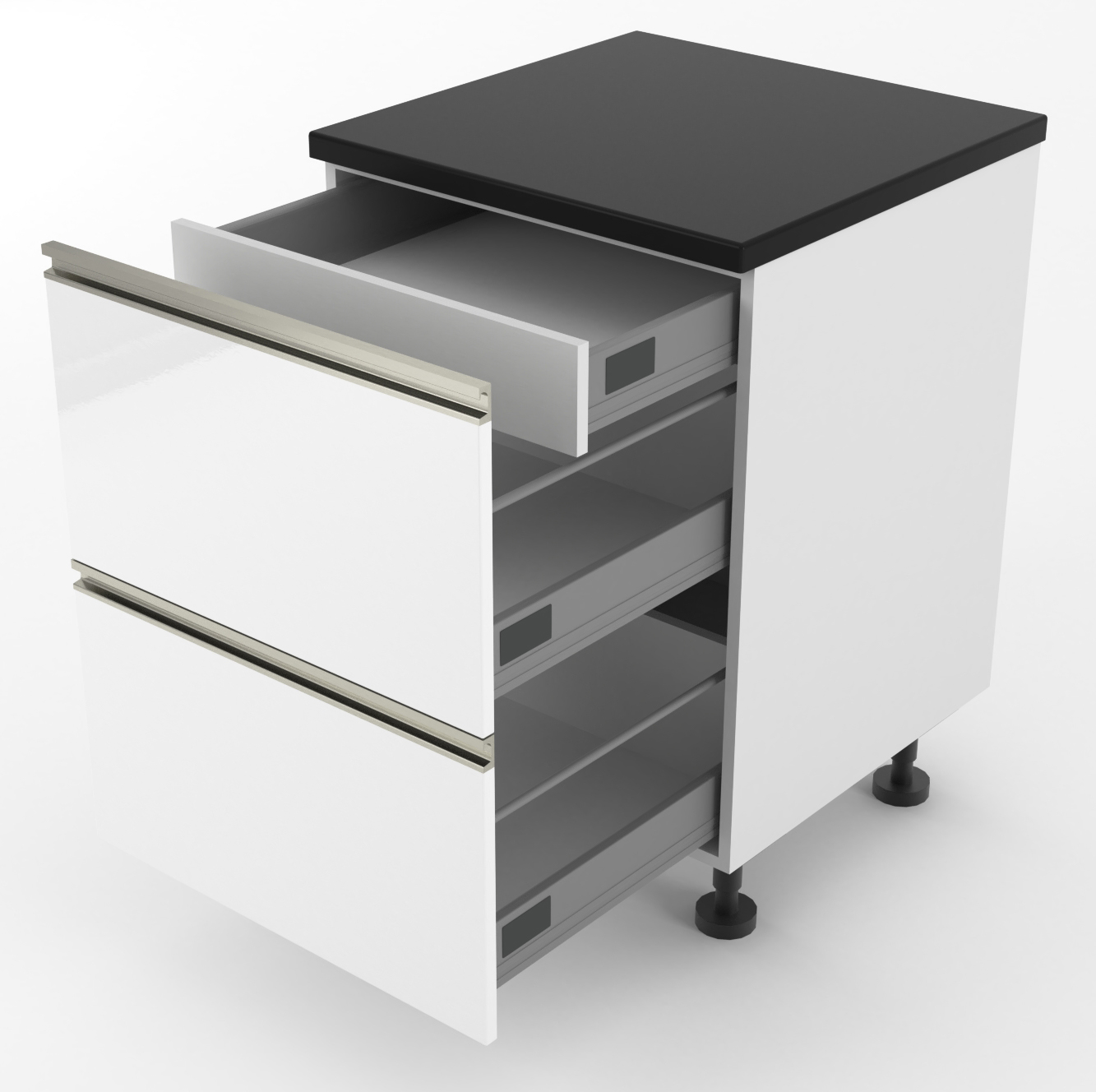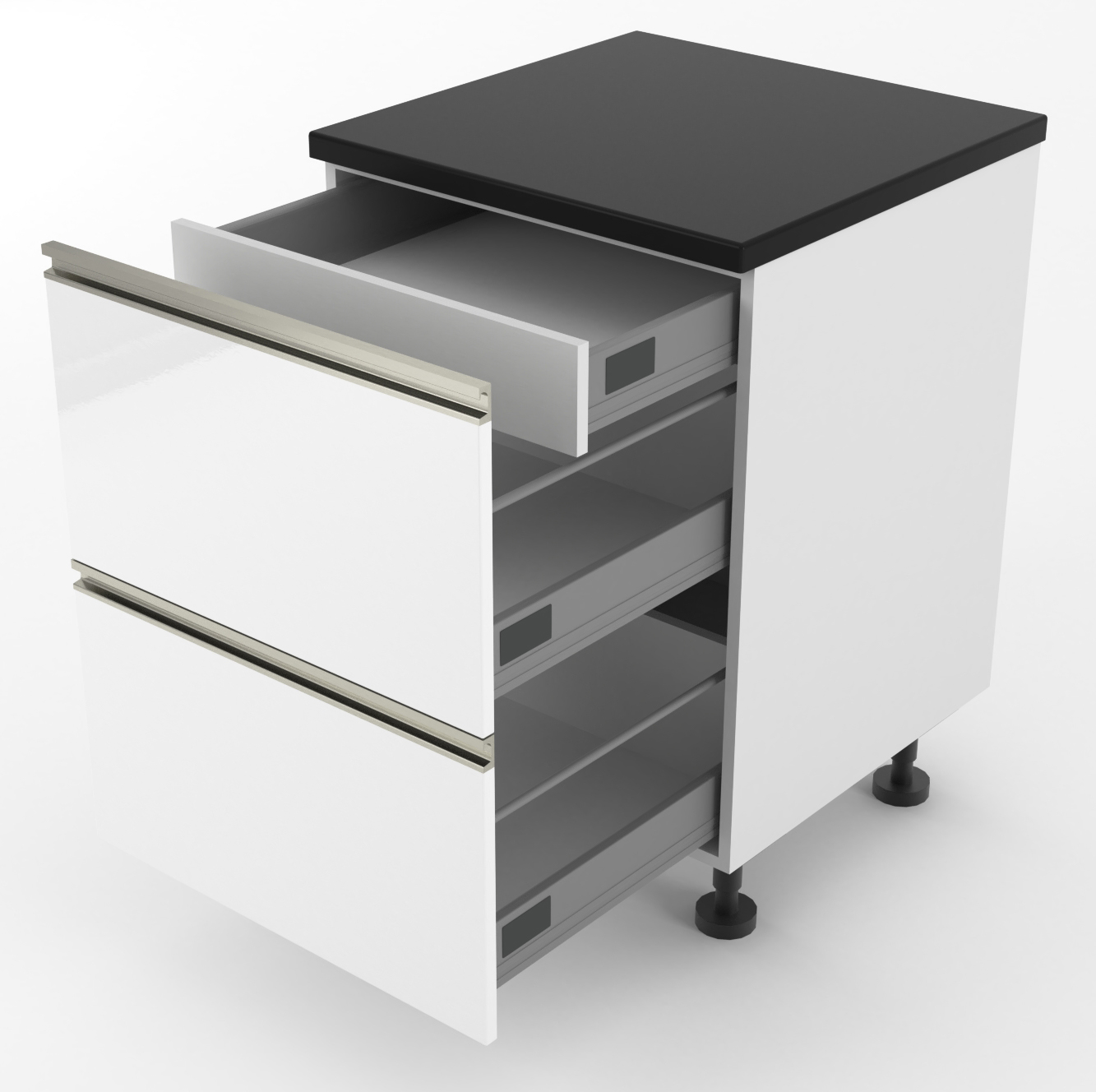 Venice - 600mm wide Two Drawer Base Cabinet with Top Hidden Drawer - with DTC Runners
Check delivery price 
Note! This product contains multiple components. Check the stock availability below! 
Components stock availability
| | Henderson |
| --- | --- |
| 1x SET THERMOFOIL RECESSED HANDLE INOX 2D DRAWER720H600W18T 32WJV WHITE G | |
| 2x RUNNER STEEL BB015004DD1 DTC WHITE M | |
| 1x RUNNER STEEL BB015004A DTC WHITE M | |
| 1x BODY MR MELAMINE SLAB 2 DRAWER 720H600W580D16T WHITE | |
| 5x HARDWARE PLASTIC ADJUSTABLE FOOT 150H BLACK | |
Product description:
This cabinet has 2 drawer fronts visible and then 3 drawers inside it. The top drawer has an internal hidden drawer in it.
Available in a variety of colours.
Measurements:
Width: 600mm
Height: 870mm
Depth: 580mm
The cabinet body is made from white, fully sealed and edged, 16mm thick HMR particle board. They come with German made Wurth adjustable feet with a 400KG load capacity, DTC full extension soft close metal drawer runners which have a 30kg load capacity , metal sided drawer runners. Handles and toe kicks are not included with these cabinets, unless otherwise specified. These premier cabinet bodies come with a 10-year warranty.



The body is drilled for the DTC drawer runners. These runners are made with a clear-cut, sleek design to keep your kitchen looking sophisticated and uncluttered. Featuring 3-Dimensional front adjustment capabilities, soft-close and full extension, these drawer runners will take your new kitchen to the next level of comfort and functionality.



Venice doors are 18mm thick to ensure they are durable and sturdy. The door is finished in our High Gloss White colour and they come with a recessed handle made in an Inox colour. The recessed handle is made using a new, specialised process which removes the sharp edges from the ends of the handle, meaning these doors are safer for you and for your family.



Incorporating a recessed aluminium handle with a panel finished in high gloss white, the Venice is for those looking for an innovative, industrial setting. The continuous lines, strong contrasts and lustre finish denotes a dynamic and efficient environment. Stainless steel appliances integrate seamlessly with the sleek design of these kitchens, perfect for the modern, on the go lifestyle.

---
| | |
| --- | --- |
| Facade material: | Thermal-Wrapped One side |
| Facade shape: | Venice Inox |
| Facade colour: | High Gloss White 32WJV |
| Body colour: | White |
| Hardware brand: | DTC |
1x SET THERMOFOIL RECESSED HANDLE INOX 2D DRAWER720H600W18T 32WJV WHITE G
2x RUNNER STEEL BB015004DD1 DTC WHITE M
1x RUNNER STEEL BB015004A DTC WHITE M
1x BODY MR MELAMINE SLAB 2 DRAWER 720H600W580D16T WHITE
5x HARDWARE PLASTIC ADJUSTABLE FOOT 150H BLACK
With this product people also buy