Sink Drawer Base cabinets
Sink Drawer Base cabinets
Sink Drawer Base cabinets → In a revolutionary twist we now sell sink base cabinets that have drawers! These cabinets have a blind top panel which is the same size as our normal smaller drawer. Then the second drawer down has been made with a cut out to accommodate the plumbing from your sink. The third drawer down is untouched, giving you a whole drawer of storage space for items such as your tea towels or dish washing liquids!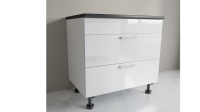 900mm wide 2 drawers Sink Base cabinet Euro with Blum Runners
$
730.00
In stock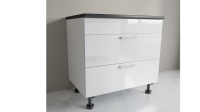 900mm wide 2 drawers Sink Base cabinet Euro
$
630.00
In stock
Please be advised that the images for some of the panels and combined cabinets show additional pieces which are not sold with the product. In these images, the items highlighted in white are typically what is being sold and the items in grey are not included with the product.