Base cabinets
Base cabinets
Base cabinets → Single or double doored cabinets for going under your kitchen bench.
Subcategories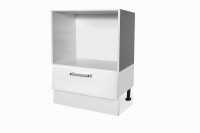 Combined 600mm wide box for microwave thermal wrapped Box and 1 drawer Base unit
$
440.00
In stock
Please be advised that the images for some of the panels and combined cabinets show additional pieces which are not sold with the product. In these images, the items highlighted in white are typically what is being sold and the items in grey are not included with the product.