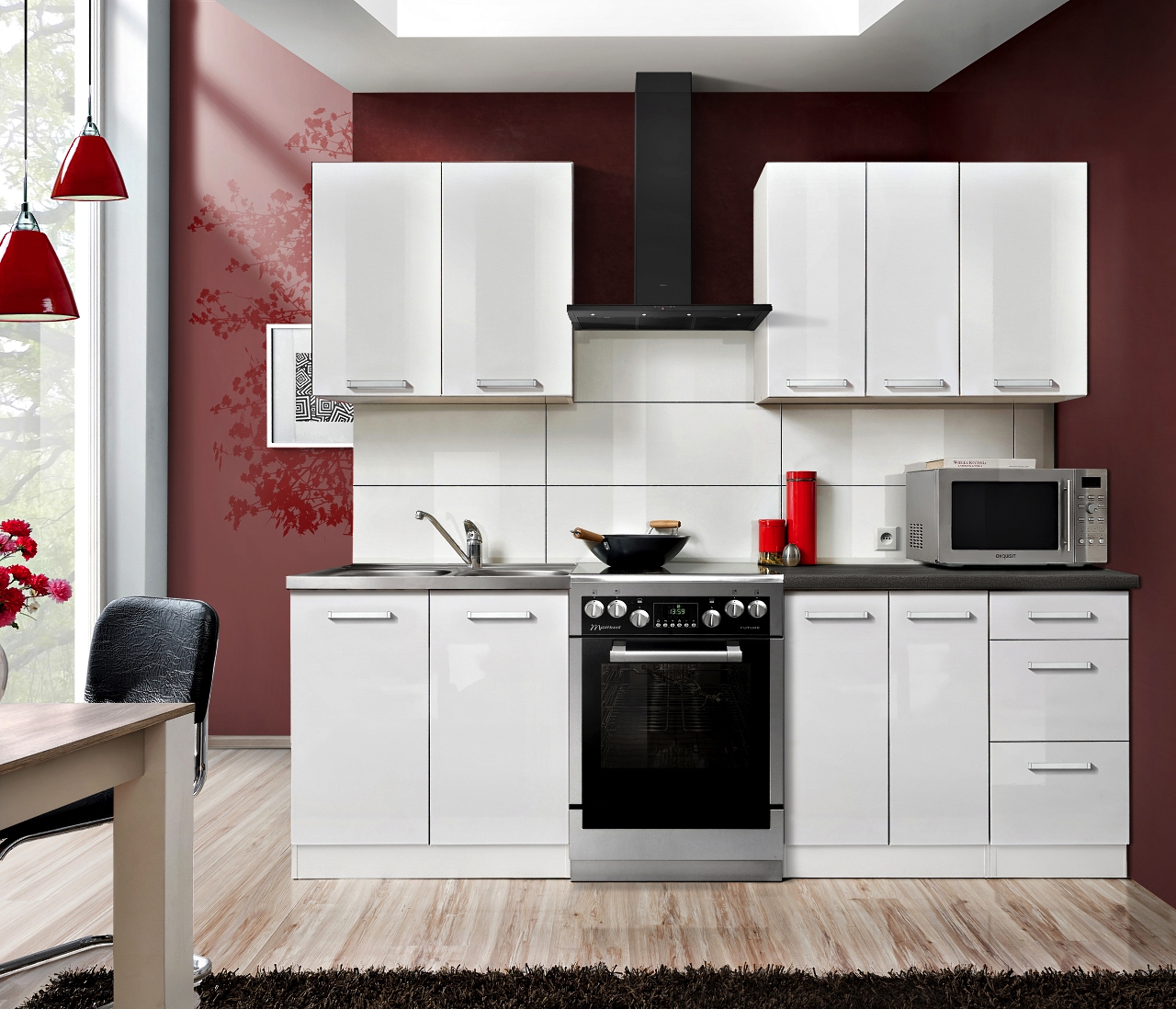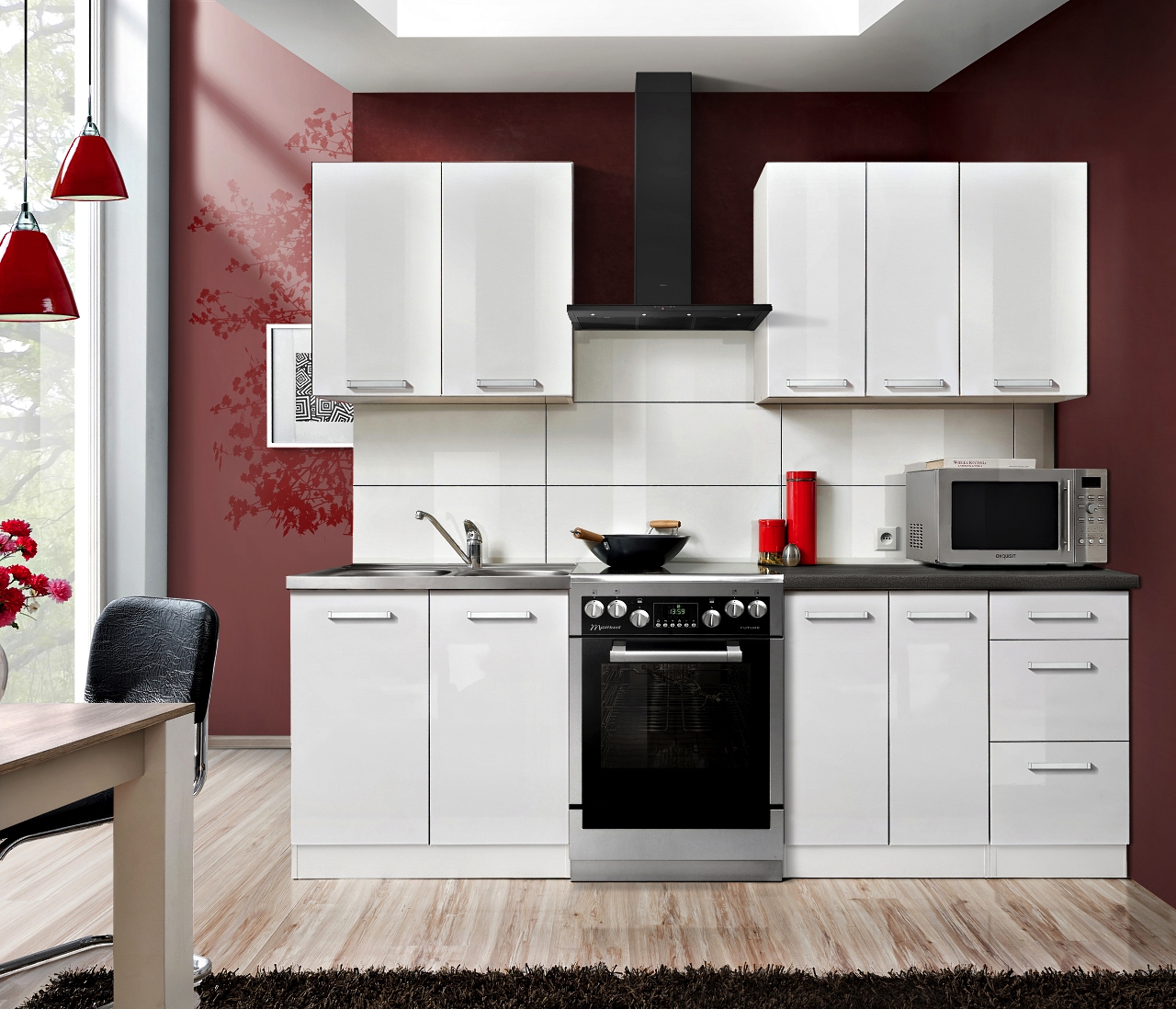 Florence Set - Kitset Kitchen 1
Check delivery price 
Note! This product contains multiple components. Check the stock availability below! 
Components stock availability
This is part of the FLORENCE SET system brought to you by Kitchen Cabinets and Stones Ltd. Our FLORENCE SET system is made in Europe using high quality materials, it comes with stainless steel handles, adjustable feet, 18mm MDF thermal wrapped High Gloss White doors and soft close drawer runners and hinges.
Kitset Kitchen includes:
Base
1 x 800Wx870Hx580D - 2 Door cupboard
1 x 400Wx870Hx580D - 3 Drawer unit
1 x 600Wx870Hx580D - 2 Door cupboard
Wall
1 x 800Wx720Hx350D - 2 Door cupboard
1 x 400Wx720Hx350D - 1 Door cupboard
1 x 600Wx720Hx350D - 2 Door cupboard
FLORENCE SET is the ideal range for those looking for a vibrant and contemporary style kitchen. It has the High Gloss White finish traditionally associated with lacquered kitchens, but for these doors it is thermoformed laminate, making it much more durable and harder wearing. The striking gloss finish imparts a clean feel and finish on these kitchens, creating a light and open atmosphere.

Drawer runners for the FLORENCE SET range are undermount Blum runners, with soft close.
For FLORENCE SET: Each cabinet comes flat-packed, packaged individually with MDF thermo-wrapped foil doors, stainless steel handles, adjustable feet and Italian made soft close hinges and runners`.
Please note: This Kitset does not include finishing panels, bench tops, toe kicks, appliances or sink. If you are unsure, please contact us with any questions that you may have.

We offer installation and Layby - please contact us to enquire about these services.
Supplied as flat pack to minimize freight costs.
FLORENCE SET
is a flexible set, each cabinet is packed in its own box. You can expand on the Kitset by adding any of the following. If you would like a price of one or just a few cabinets please ask. Extra cabinets are available including a 200mm wide space rack cabinet, 150mm, 300mm, 400mm, 500mm, 600mm and 800mm wide standard cabinets, 900/900mm and 900/800mm corner cabinets, 400mm, 600mm and 800mm wide 3 drawer cabinets, 450mm wide 4 drawer cabinet, 600mm wide oven base cabinet, 400mm rubbish bin cabinet, a 600mm wide pantry, 600mm wide microwave wall cabinet, 700mm horizontal wall cabinet, 400mm, 600mm and 800mm standard wall cabinets.
Don't settle for a low grade kitchen just to save a few dollars when you can purchase our high quality, extremely stylish kitset kitchens. Genuinely manufactured in Europe where style and excellence is at the forefront of kitchen design.
---
| | |
| --- | --- |
| Facade material: | Thermal-Wrapped |
| Facade shape: | Slab |
| Facade colour: | High Gloss White 32WJV |
1x BODY SET THERMOFOIL SLAB 3 DRAWER-720H400W580D18T 32WJV WHITE G
1x BODY SET THERMOFOIL SLAB BASE-720H600W580D18T 32WJV WHITE G
1x BODY SET THERMOFOIL SLAB BASE-720H800W580D18T 32WJV WHITE G
1x BODY SET THERMOFOIL SLAB WALL-720H400W350D18T 32WJV WHITE G
1x BODY SET THERMOFOIL SLAB WALL-720H600W350D18T 32WJV WHITE G
1x BODY SET THERMOFOIL SLAB WALL-720H800W350D18T 32WJV WHITE G
With this product people also buy