Get our free Catalogue via E-mail
If you would like to receive future information regarding promotions and special offers, please make sure you have read and fully understood the Terms and conditions, as "Kitchen Cabinets and Stones Ltd" will need to keep the data you have provided above to send promotions and specials to you via email.
View or Load designs
Cart
Terms of service
Tweet
3D Planner usage instructions
Free 3D planning design tool
Our free 3D planner is designed to allow you to visualise and design your dream kitchen. To start you enter in the dimensions of your space. From there you can choose and insert any of our wide range of cabinets. All of our colours and cabinets are available on our 3D planner, allowing you to customise your kitchen space completely. If you need help with where to start, we even have pre-made kitchen designs that you can view and edit to suit your space. Along with our range of cabinets you can also insert dishwashers, fridges and ovens and change your benchtop colour to make your 3D kitchen complete.
Start
You can select whether you want to create new design or you want to modify the existing one.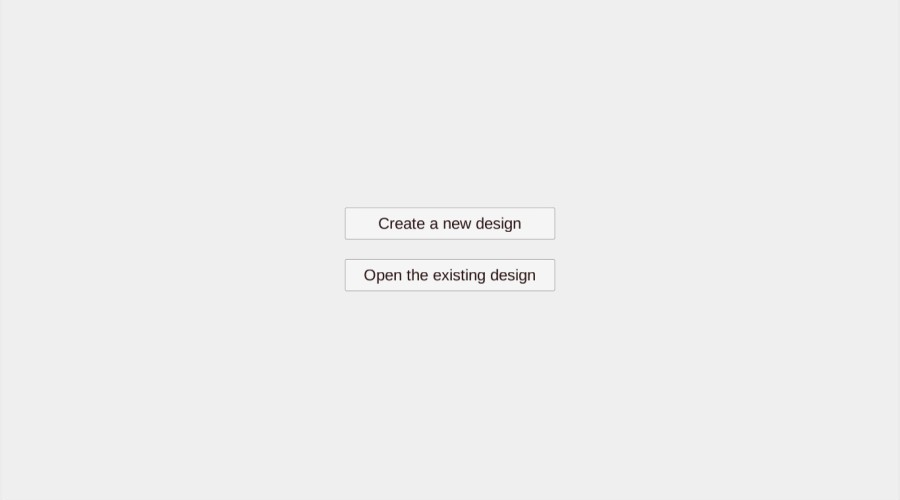 Room shape
You can choose the shape of your room. It can be a rectangle, L-shaped, have 5 sides or if you have a unique room layout you can use the custom shape option to mark out your rooms dimensions.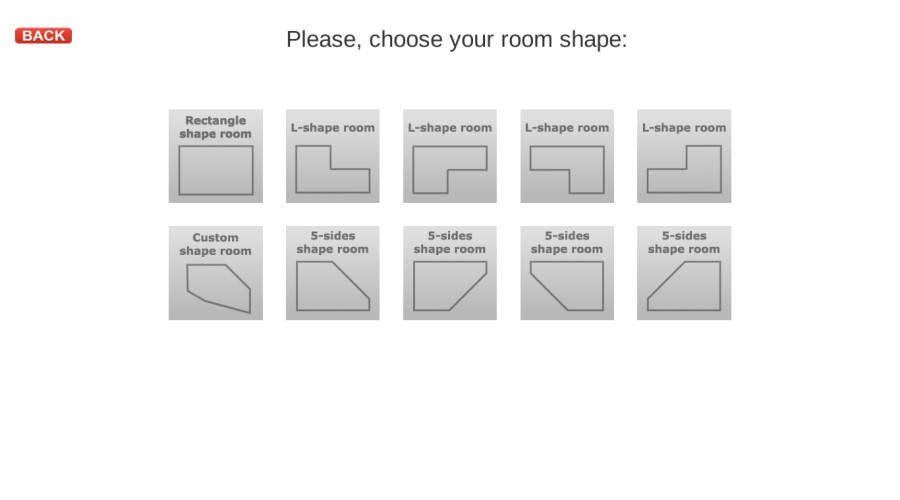 Room dimensions
Set the dimensions for walls in your room.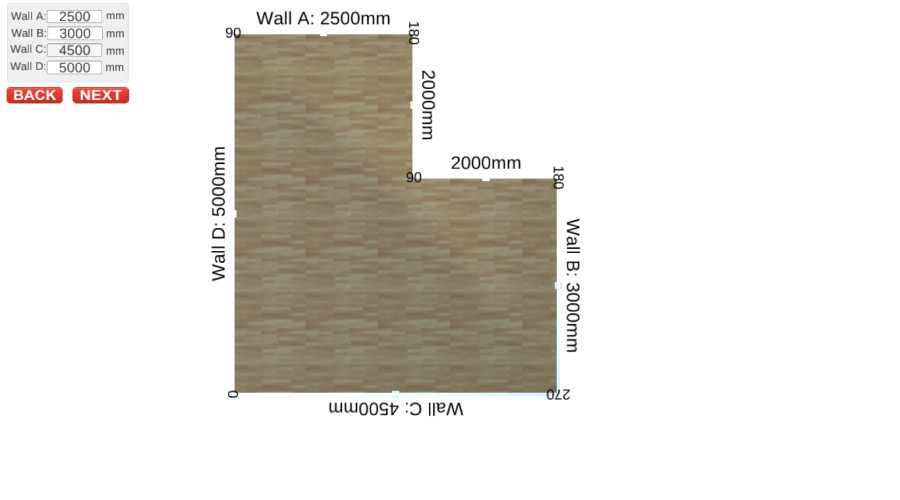 Cabinets
1. To open the panel with the cabinet options, click on the right-hand panel and select which cabinet you want to add to your design.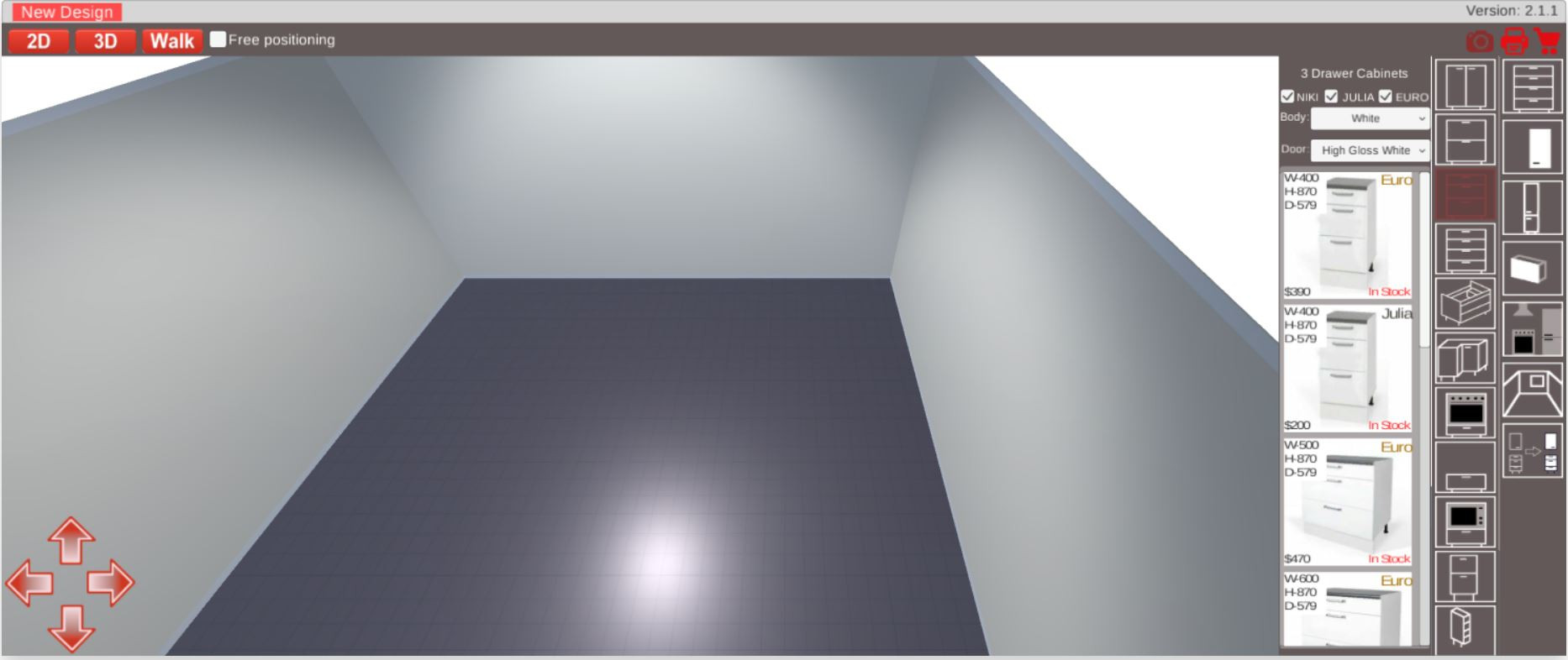 2. If you want to get a full description of the cabinet simply hover your mouses' cursor over it.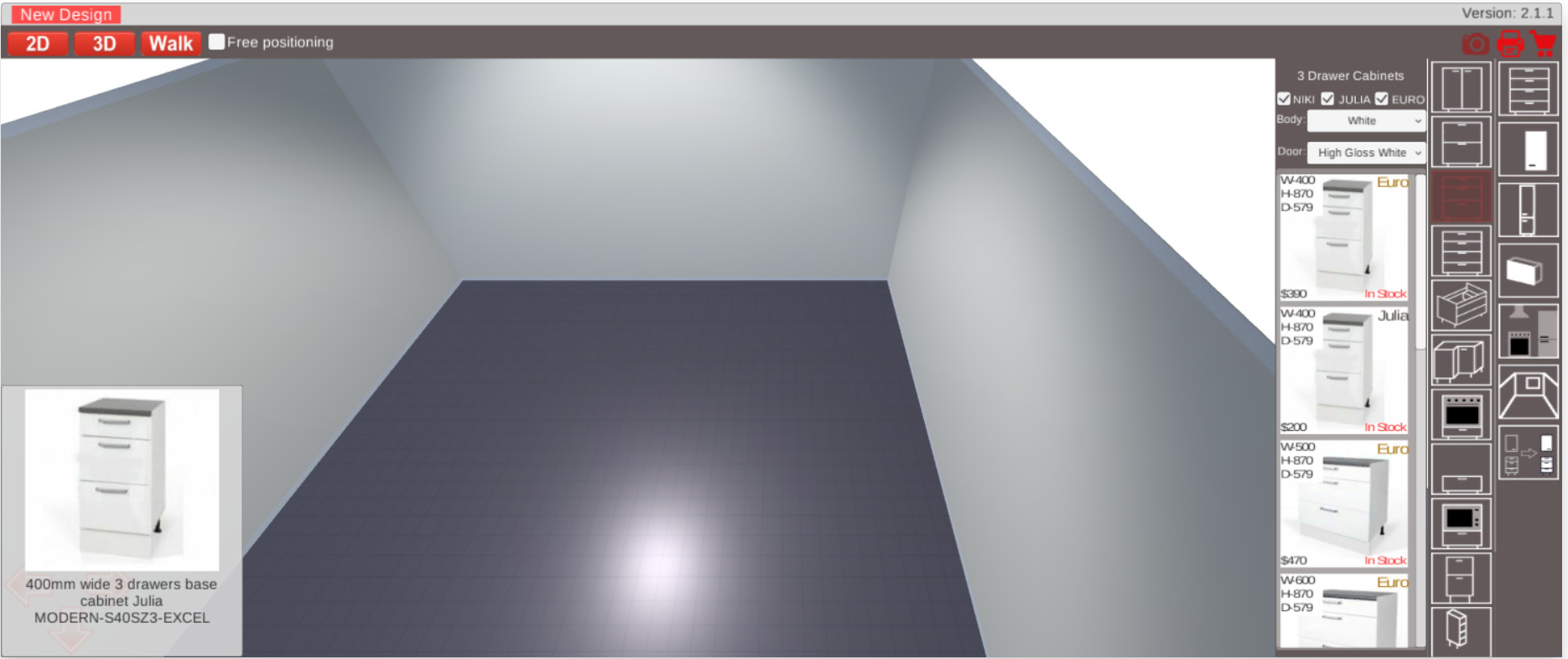 3. Move your cabinet to the desired location by dragging it with your mouse.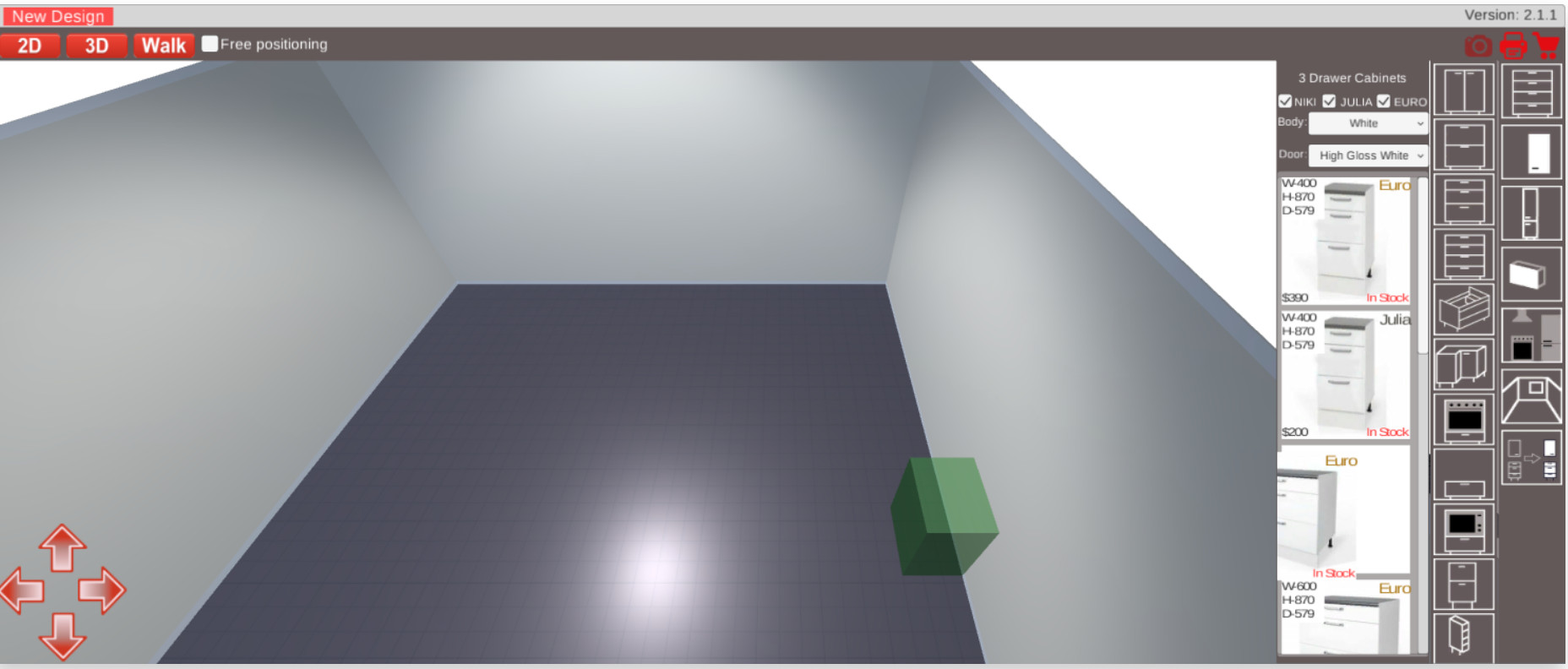 4. Move your cabinet to desired place by dragging it by mouse.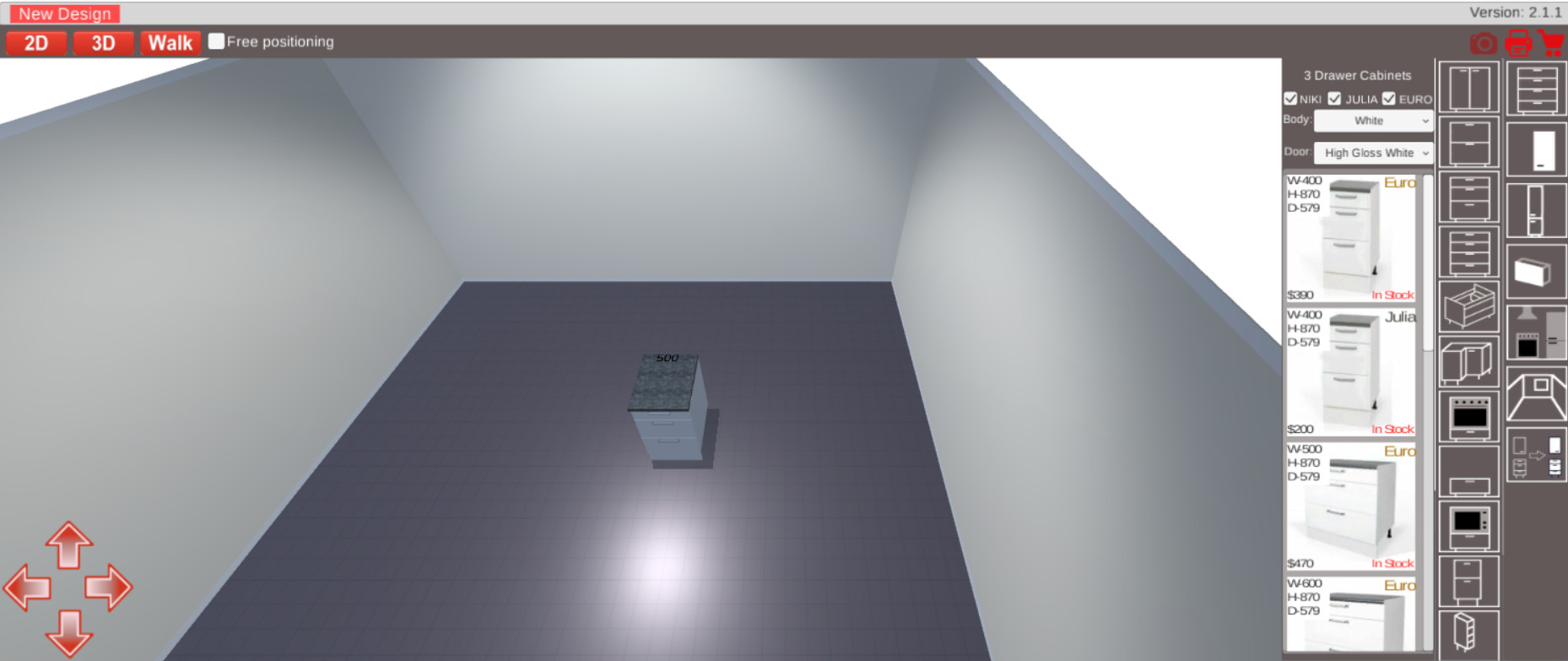 Change colour
To change the colour of your cabinet(s), select your desired colour from the drop down menu shown in the right-hand panel.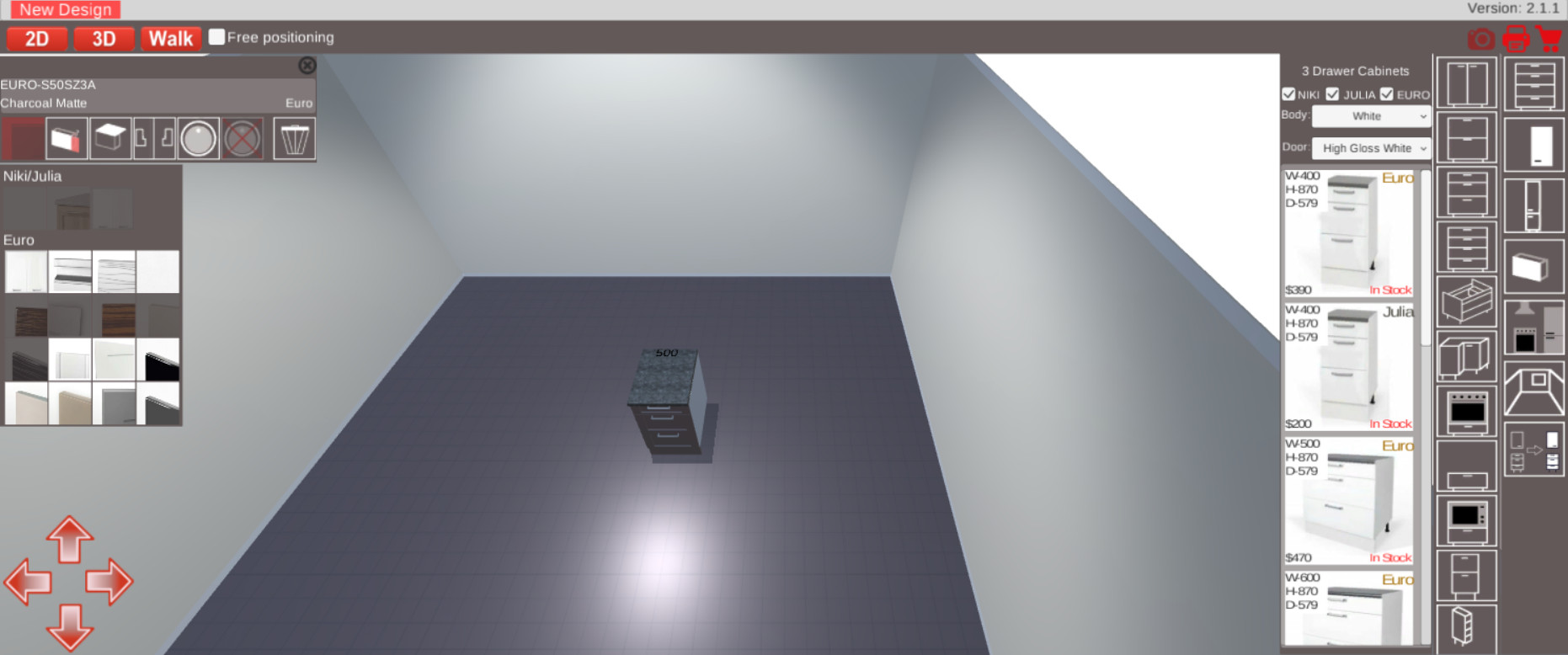 Cabinets' settings
To add a sink to your cabinet, select the cabinet and choose your desired sink from the top pop-up menu.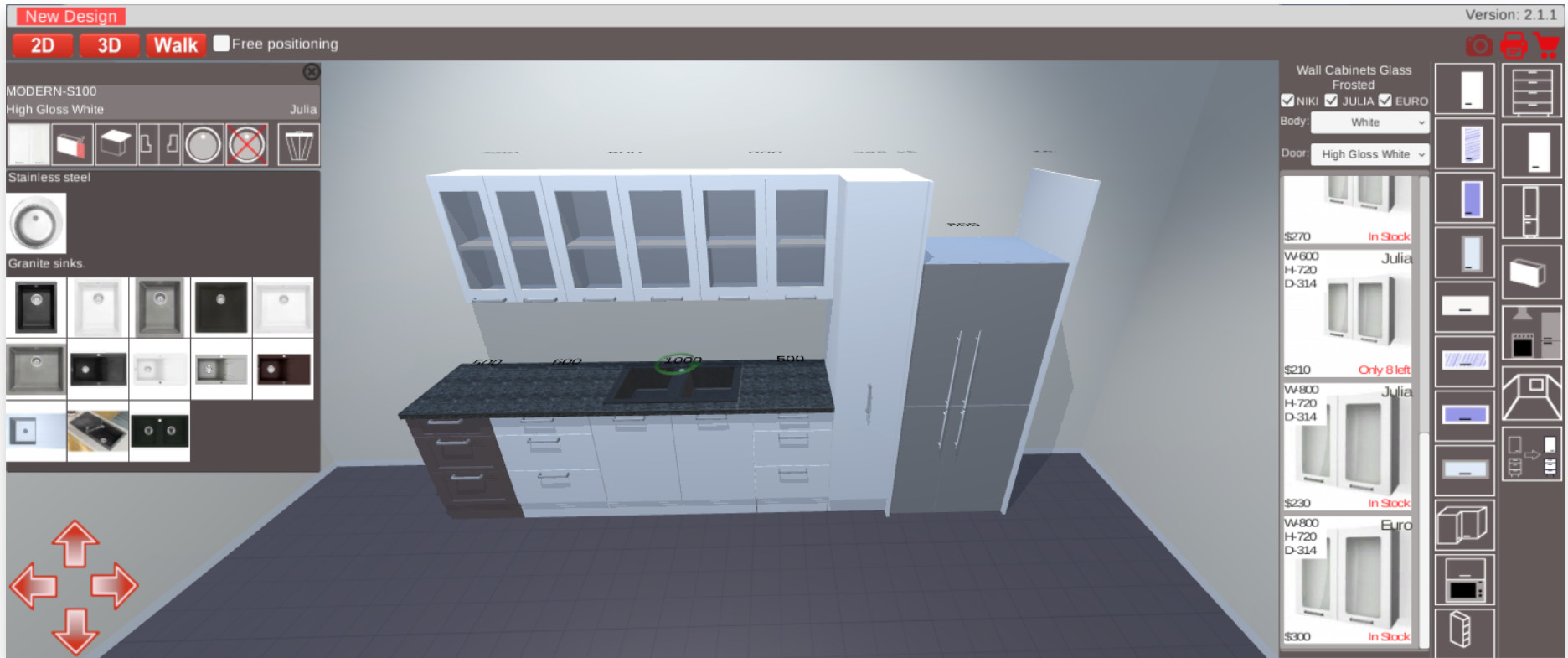 To change the benchtop colour, select a cabinet and click on the "Benchtop colour" button in the top pop-up menu.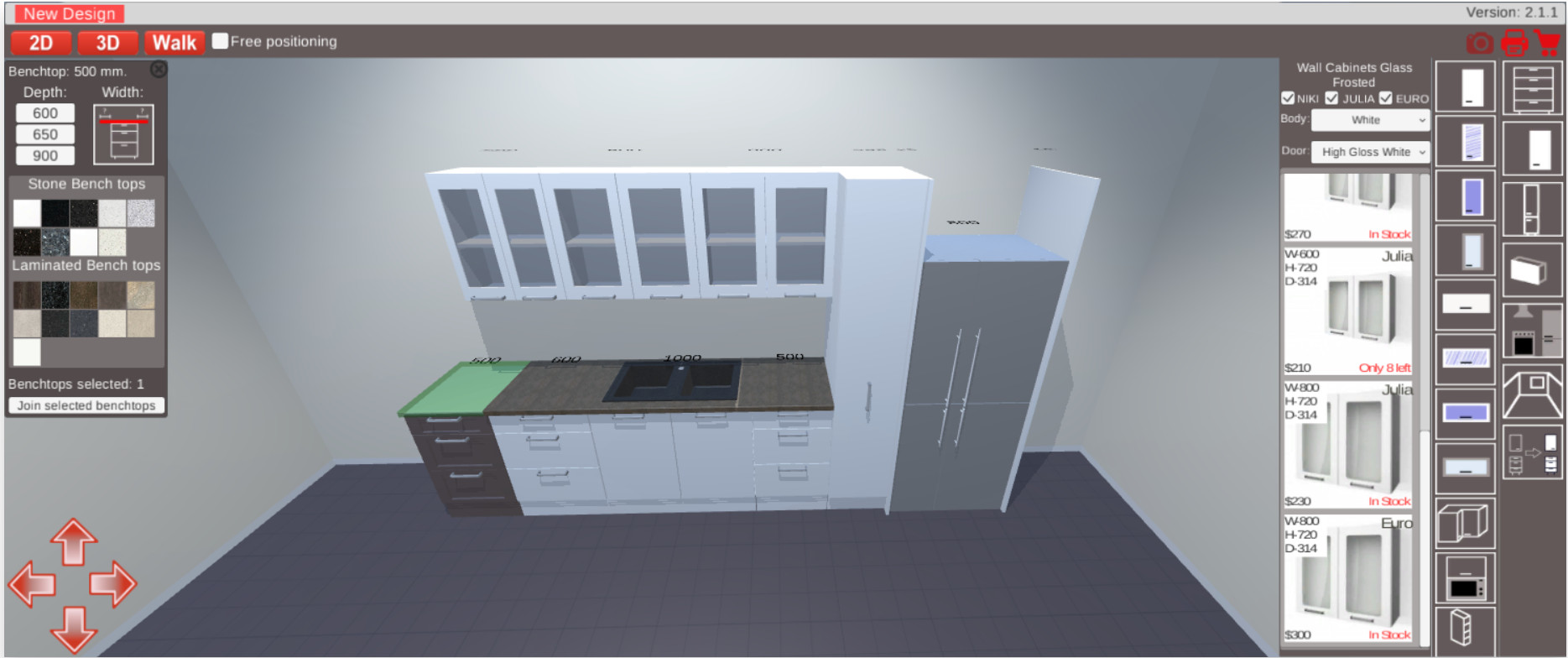 To put a horizontal wall unit above the fridge, select it and click "Put on Fridge".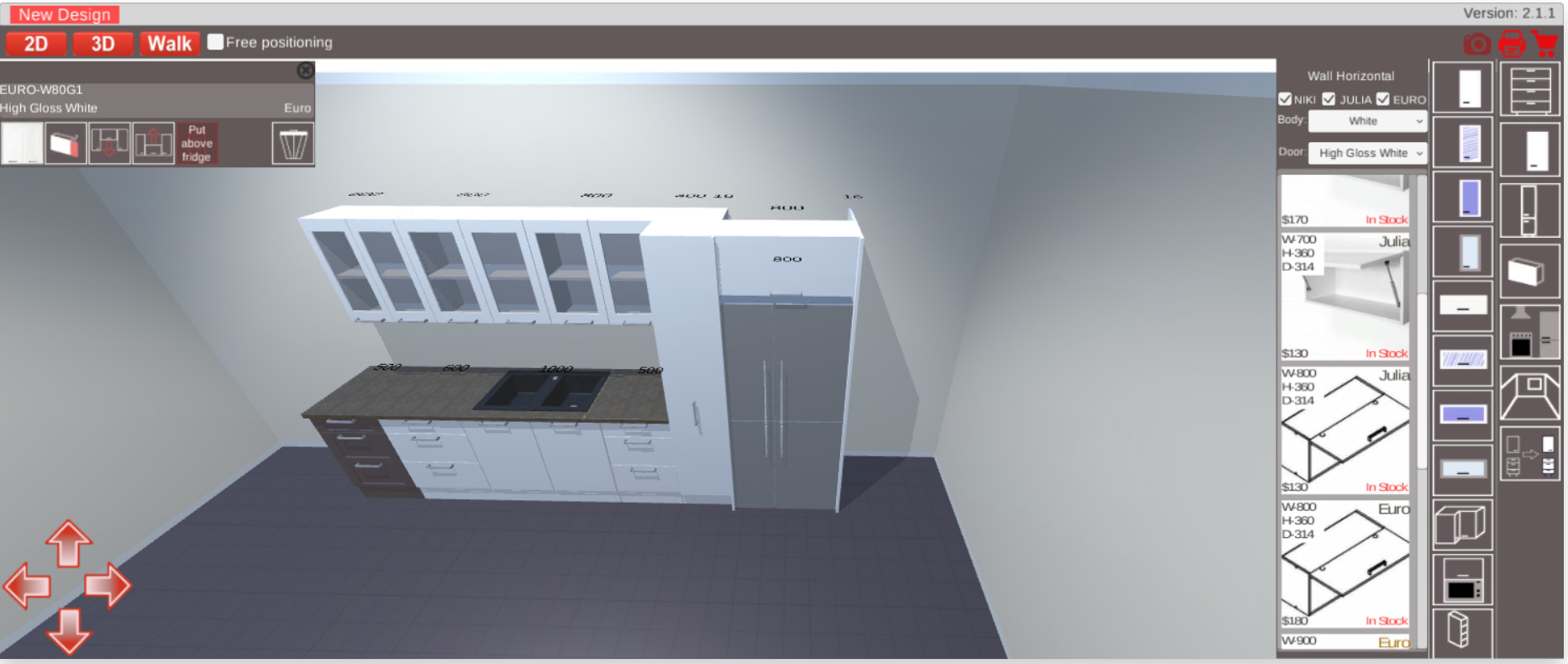 To change the size of a back panel, select the desired panel and click on the "Change panel size" button in the top pop-up menu.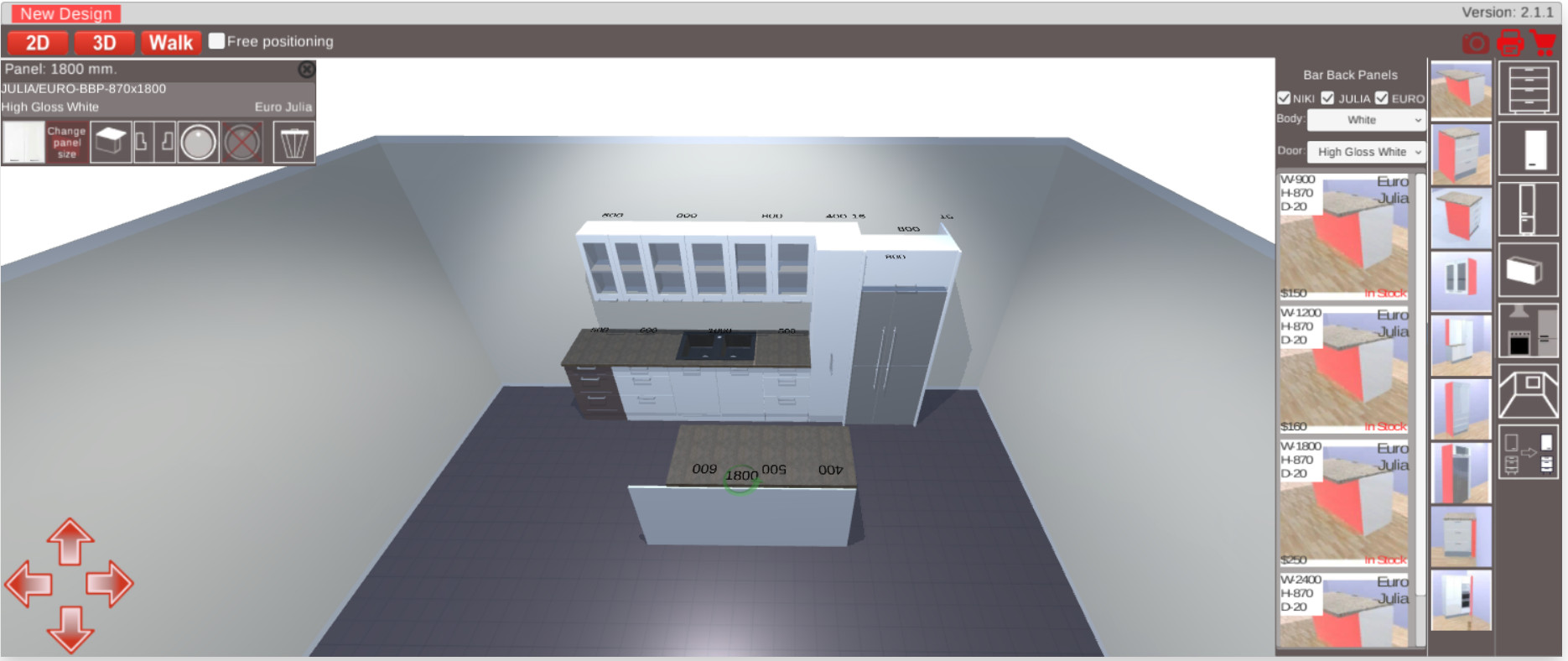 To change the size of a benchtop click on the "Benchtop size" button in the top pop-up menu.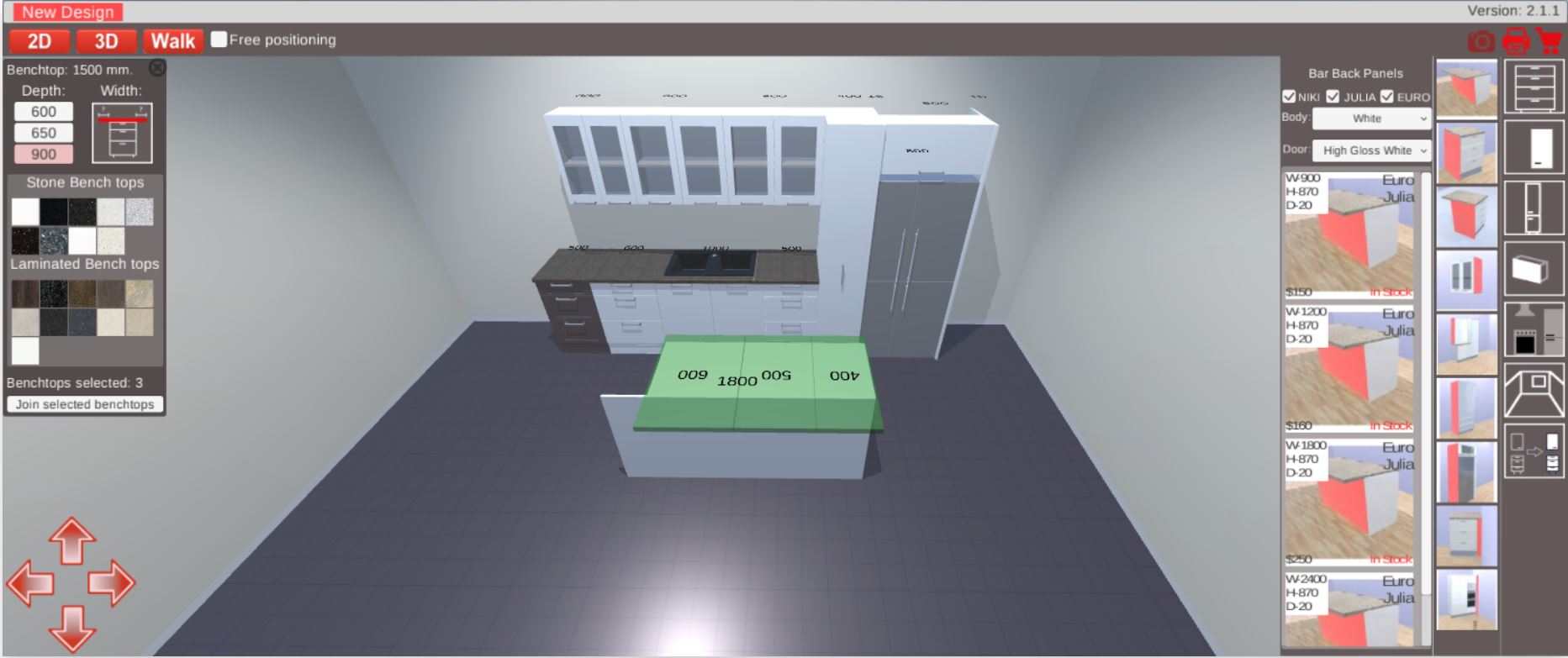 Save design
You can save your design during Print or Add to cart processes
To save your design and add it to cart click on the 

 icon in the top panel.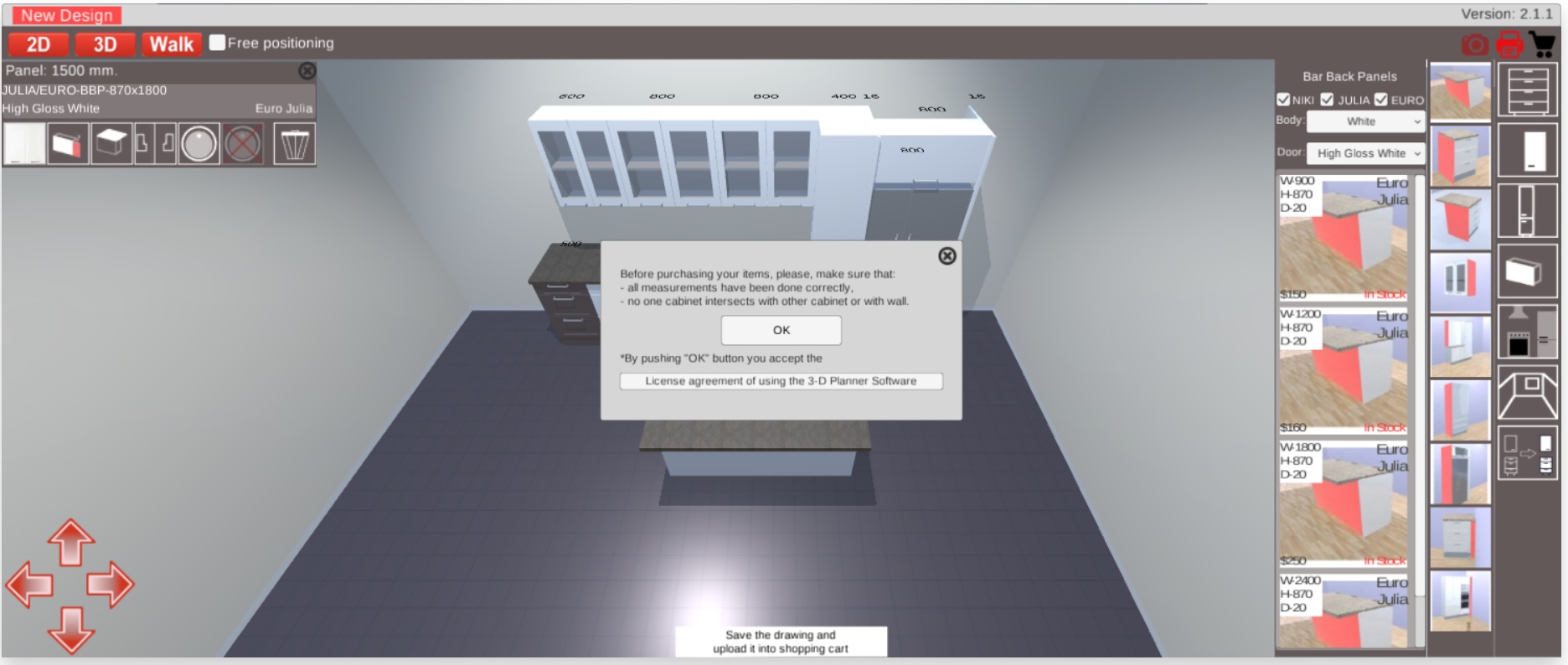 The system will give you a unique design number. This can be entered into to the planner again at a later date so you can edit your design, or you can upload your items into your cart to purchase your kitchen cabinets directly.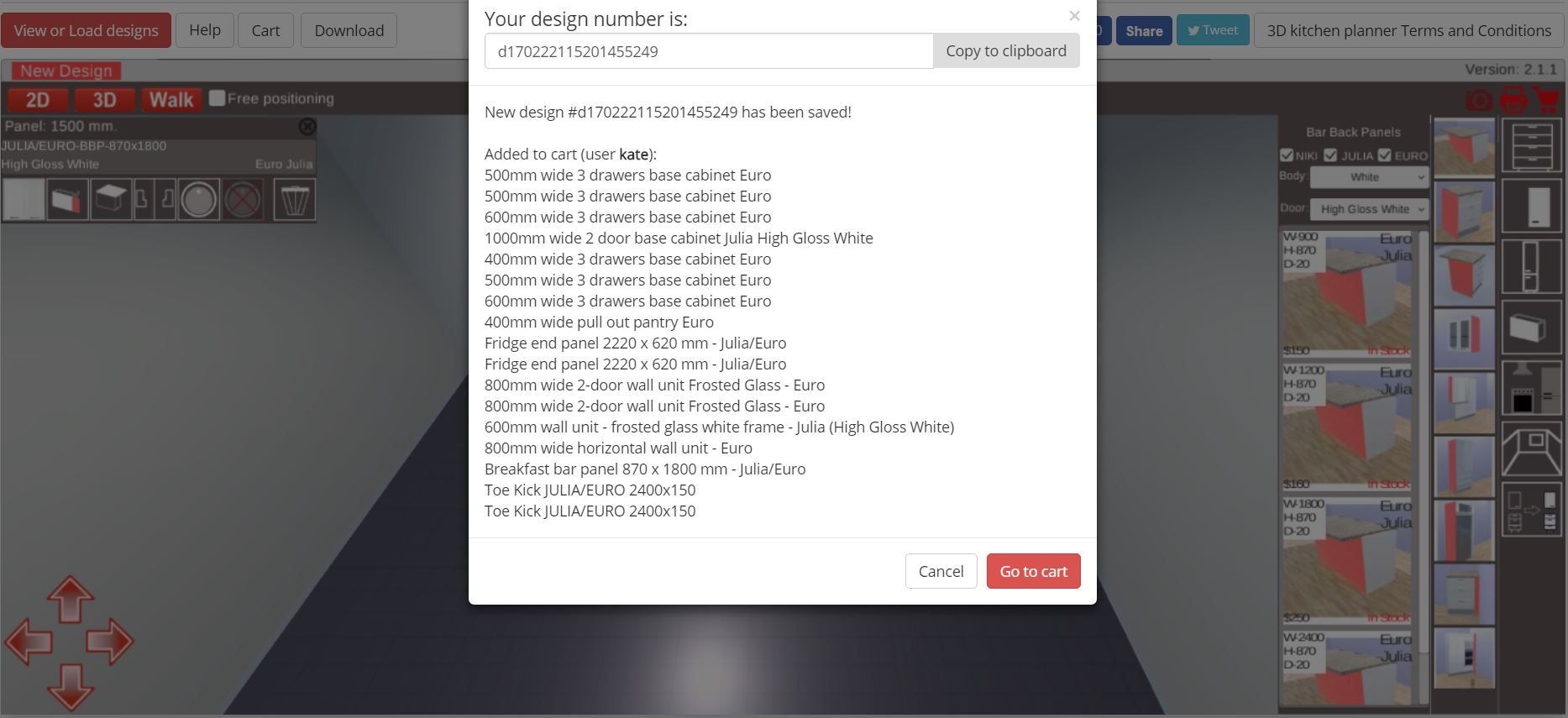 After that, you can go to cart to see the loaded products by clicking "Go to cart" button. Your cart will then be opened in a new window.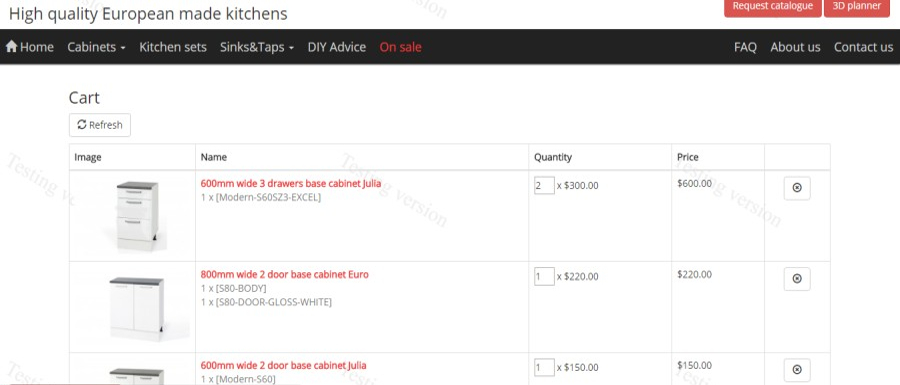 PDF
To save a PDF file of your plan, click on the 

 icon in the top panel. Select print on the pop-up window that appears.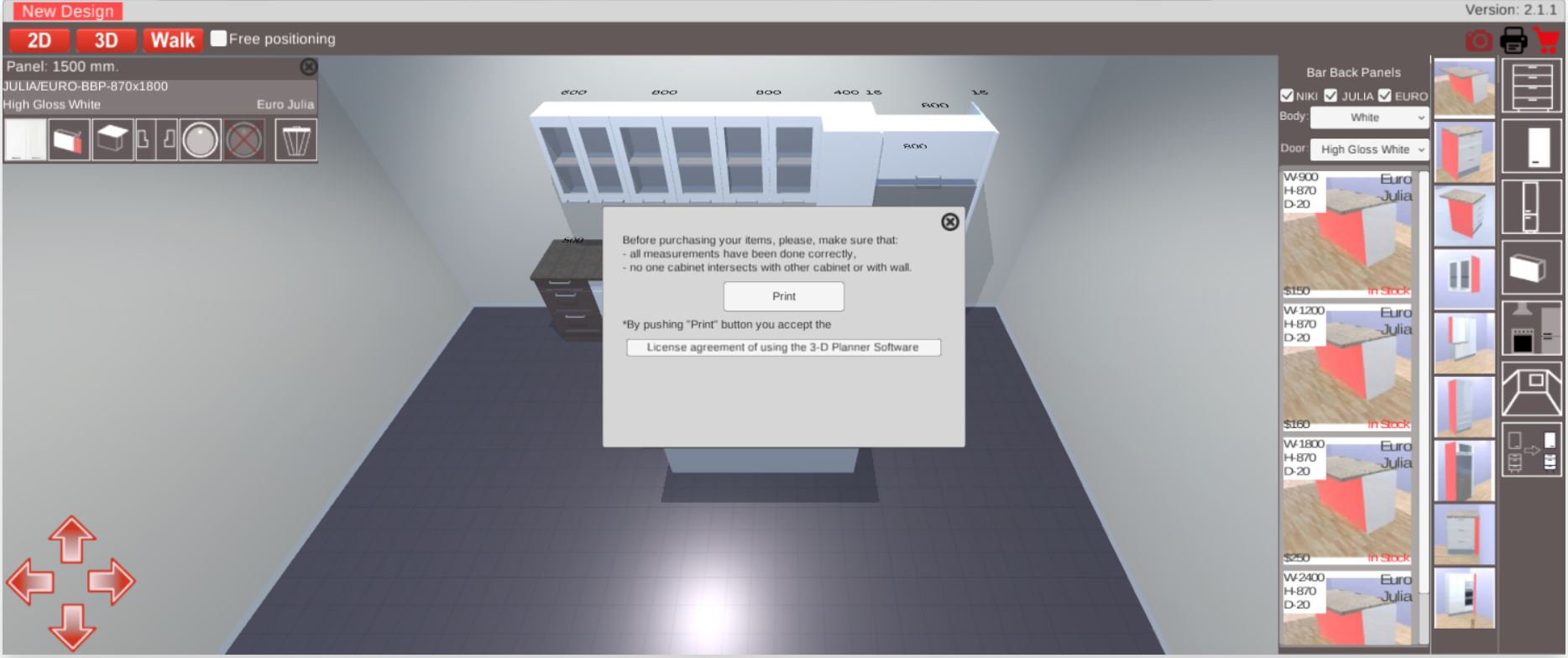 A PDF file will be opened in a new window. Make sure you then save this PDF file to your computer.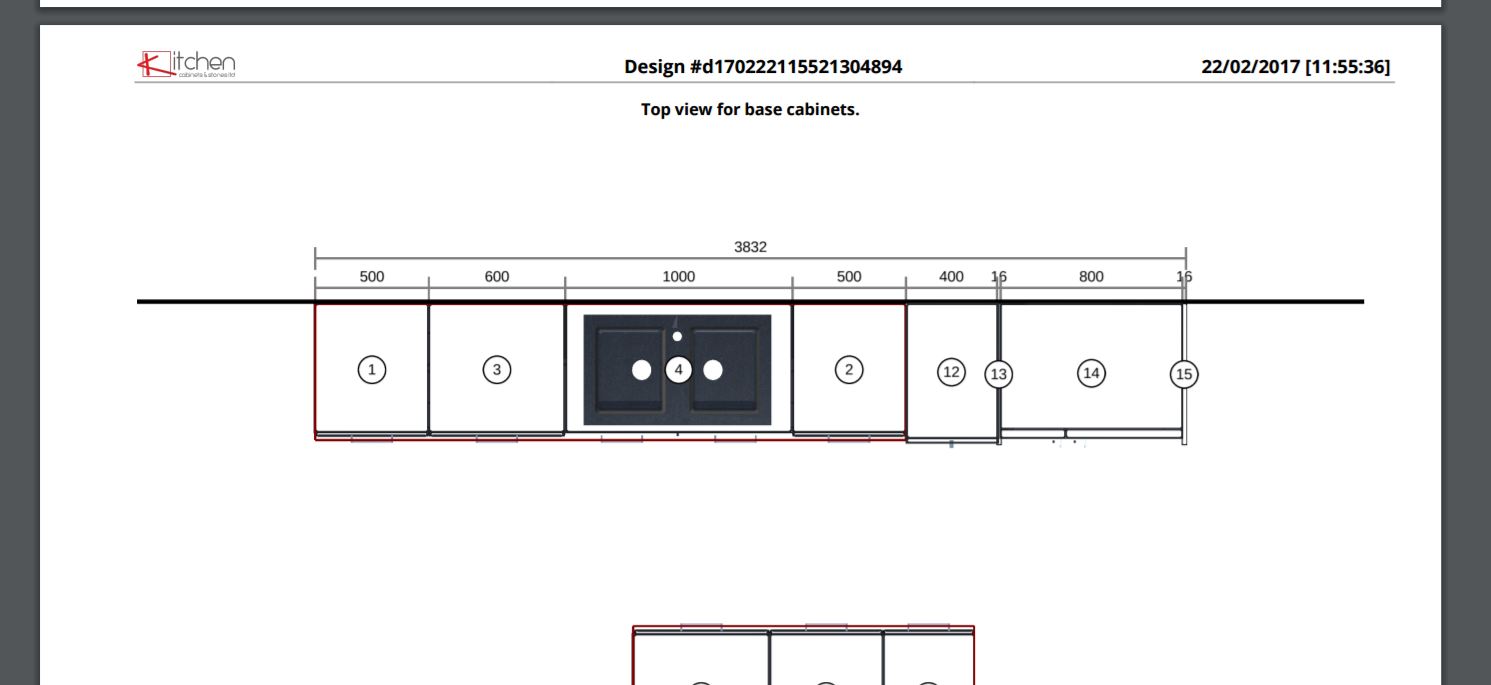 2D/3D modes
You can work with your design in a 2D or 3D mode, simply click on the 

 or 

 icon in the top panel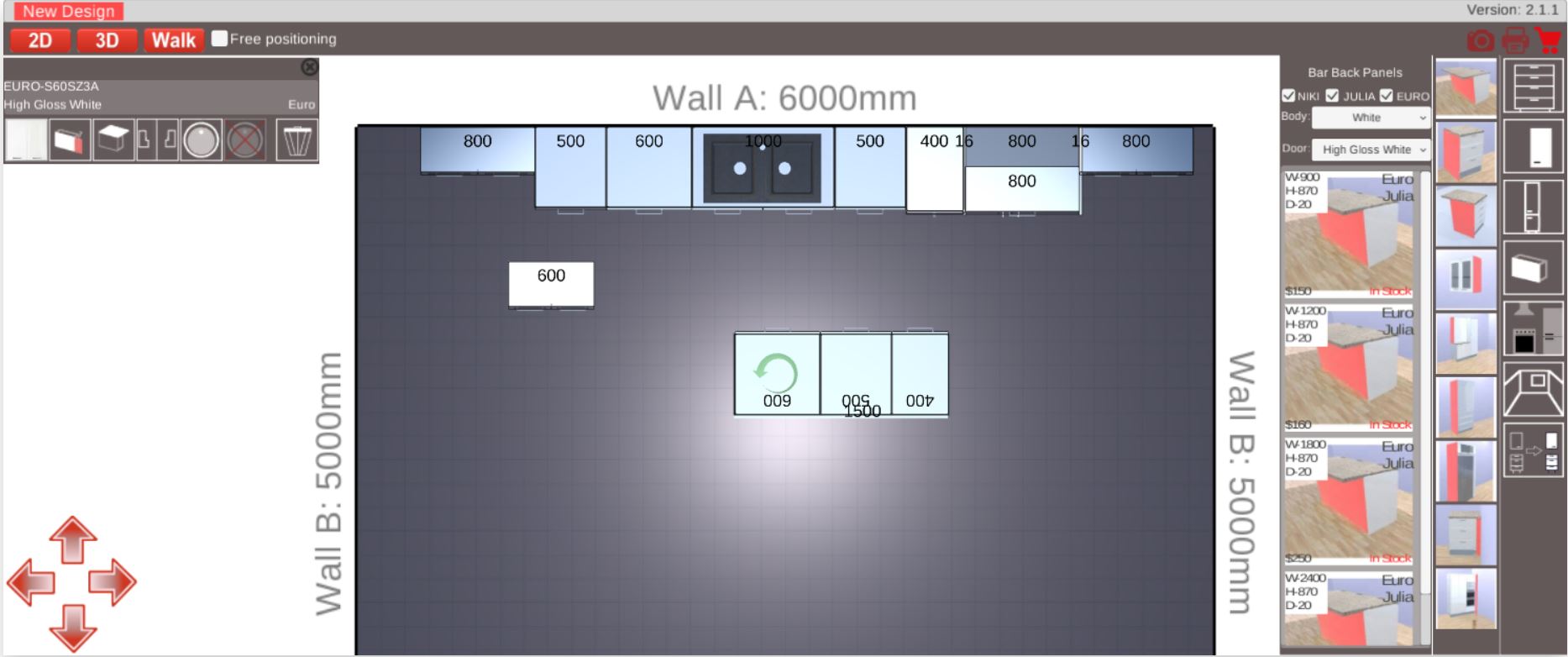 Walk mode
You can use the walk mode to have a walk around your kitchen.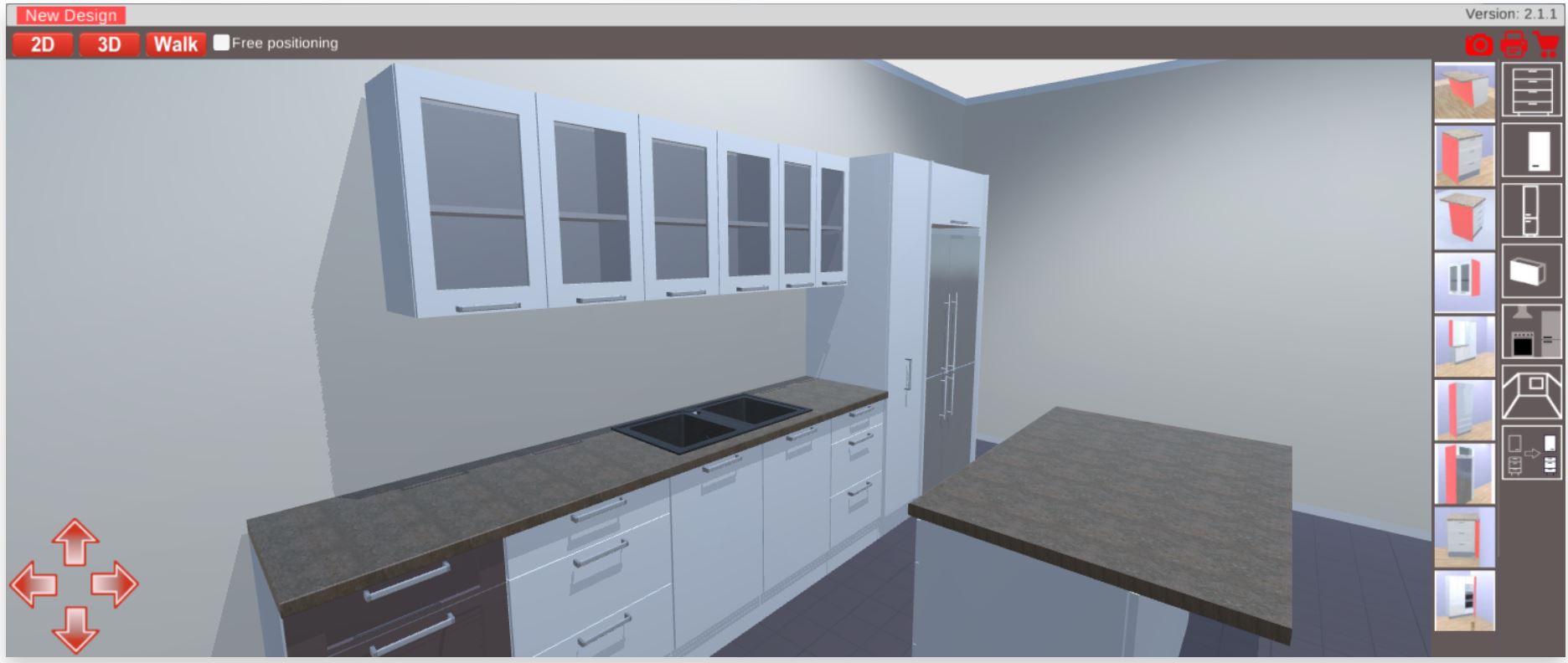 Screenshots
To take screenshots of your design, go into "Walk mode" and click on the  

 icon. Then set your desired view for your screenshot and take your picture. Your screenshot will then be downloaded onto your computer.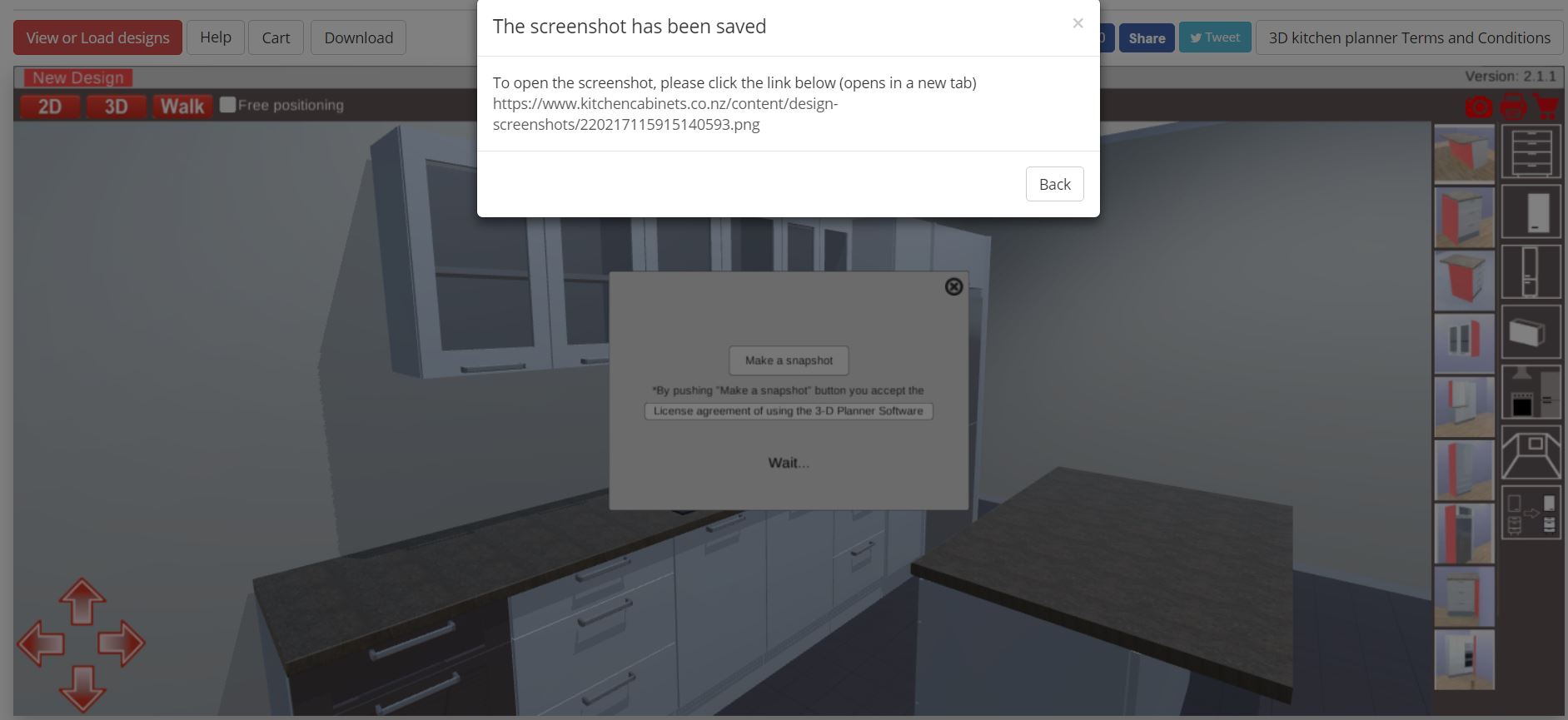 System requirements:
Windows 7/8/10 (64-bit OS required)
Modern web-browser with support of WebGL technology (Last versions of Google Chrome, Firefox and others)
Please make sure that the web-browser is 64-bit based as well
For better performance, please do not launch 3D Planner in multiple tabs
Hardware requirements (minimum):
Processor: Dual-core, 2.0GHz
Memory: 6GB RAM
Videocard: NVIDIA/AMD Radeon video card 1GB or equivalent
Hardware requirements (recommended):
Processor: Quad-core, 3GHz
Memory: over 10GB RAM
Videocard: NVIDIA/AMD Radeon video card 3GB or equivalent
---
3D Planner Beginner Tutorial videos
3D Planner Advanced Tutorial videos
Select/Upload existing design
Or have a look at the designs which we made for you: